Winter Newsletter 2016–2017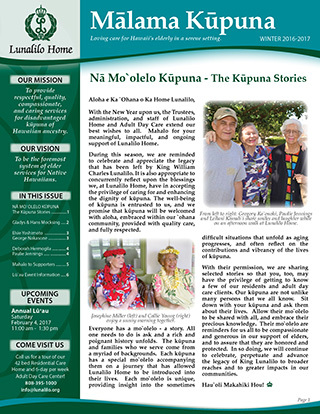 In this issue of Lunalilo Home's Winter 2016–2017 newsletter:

With permission, we highlight stories from six of the many beloved kūpuna whom we serve every day; we thank our many donors, partners, volunteers, and community organizations who support the Home year-round — a special "Mahalo nui!" for the kind donations for our kūpuna during this recent Holiday Season; and we welcome you to join us in honoring King Lunalilo and our kūpuna at our Annual Benefit Luʻau.
Bring your family and friends to enjoy ʻono food and nahenahe music on the beautiful slopes of Maunalua, Saturday, February 4, 2017 from 11:00am–1:30pm!
Food provided by Haili's Hawaiian Foods and musical performances by Tony Conjugation, Kuuipo Kumukahi and Kupaoa!
Click below to read all about:
Na Moʻolelo Kupuna — The Kupuna Stories:

Gladys & Hans Mocksing
Elsie Yoshimoto
George Nakasone
Deborah Hermogila
Paulie Jennings

Annual Benefit Luʻau — Saturday, February 4, 2017 from 11:00am–1:30pm.

Stay connected and subscribe

to receive notifications for news and updates