Lunalilo Home's Meals-to-Go is a food service program dedicated to seniors in East O'ahu who would like to pick up or get delivered local style, nutritious meals.
We prepare balanced meals using fresh ingredients to meet a third of the Recommended Dietary Allowance for an individual as established by the U.S. Food and Nutrition Board of the Institute of Medicine, National Academy of Sciences. We can also accommodate special requests for modified and therapeutic meals including: diabetic, low sodium, reduced cholesterol, low potassium, low fat, and low carbohydrate.
Meals Perfect for Seniors Living Independently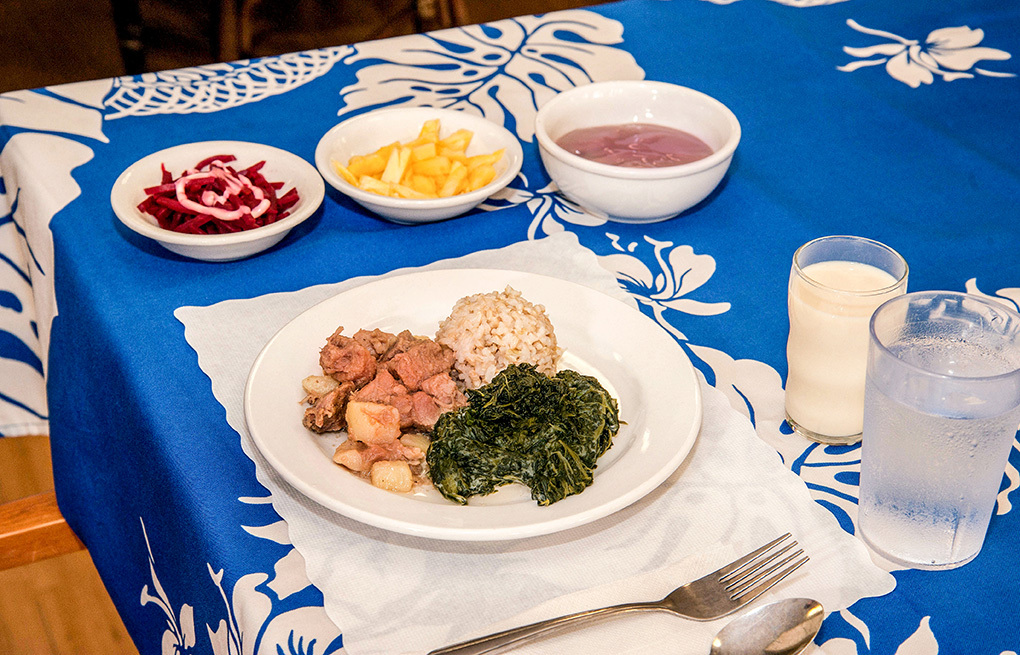 Lunalilo Home prepares delicious local-style meals designed for today's healthy senior lifestyle. Lunalilo Home's Meals-to-Go are ideal for single seniors or couples who want to maintain their independence.
Ready to heat and eat, each meal consists of:
A hot entrée (starch, protein, and vegetables)
Fresh fruit or a cold dessert
A cold salad
A cold beverage (choice of either milk or juice)
View a sample Meals-to-Go menu.
All hot items are individually packaged in microwavable containers. Cold items are packaged separately to ensure quality and safety.
Meals may be picked up each day of the week between 11 a.m. and noon for lunch and between 4 and 5 p.m. for dinner.
Persons 60 years of age or older who are homebound and unable to shop or prepare their own meals may also be eligible for home-delivered meals offered through Lunalilo Home's partnership with the Hawaii Meals on Wheels program.
How to Apply
For more information and to sign up to participate in Lunalilo Home's Meals-to-Go program, contact our Dietary Manager at (808) 395-1000 ext. 236 or email tammy@lunalilo.org.
Stay connected and subscribe

to receive notifications for news and updates