Lunalilo Home provides Adult Day Care services in a nurturing, safe, and secure environment for seniors who need support in health, nutritional, social and activities of daily living.
As our staff are specially trained to handle the complexities of age-related needs, family caregivers have peace of mind knowing their loved-ones are spending the day in a safe, fun and socially engaging environment while receiving expert care.

Our Philosophy & Objectives
We strive:
To promote the physical, mental and emotional well-being of participants in a secure and meaningful environment in an atmosphere of cheer and contentment, Hawaiian culture, ʻohana (family) and aloha (love, compassion).
To enable the day care participant to develop relationships outside of family in a socially stimulating setting; to reintroduce participants or allow them time to adjust to group interaction; and to reduce or prevent physical and emotional withdrawal or isolation that can result when elders live alone or are left alone for long periods of time.
To provide family caregiver(s) with time and opportunity to care for their own needs or pursue their own interests by providing care and supervision outside of the caregiver's own home.
To offer high quality, professional care services in a secure and comfortable environment to caregiving families and day care program clients.
Fun Activities and Expert Care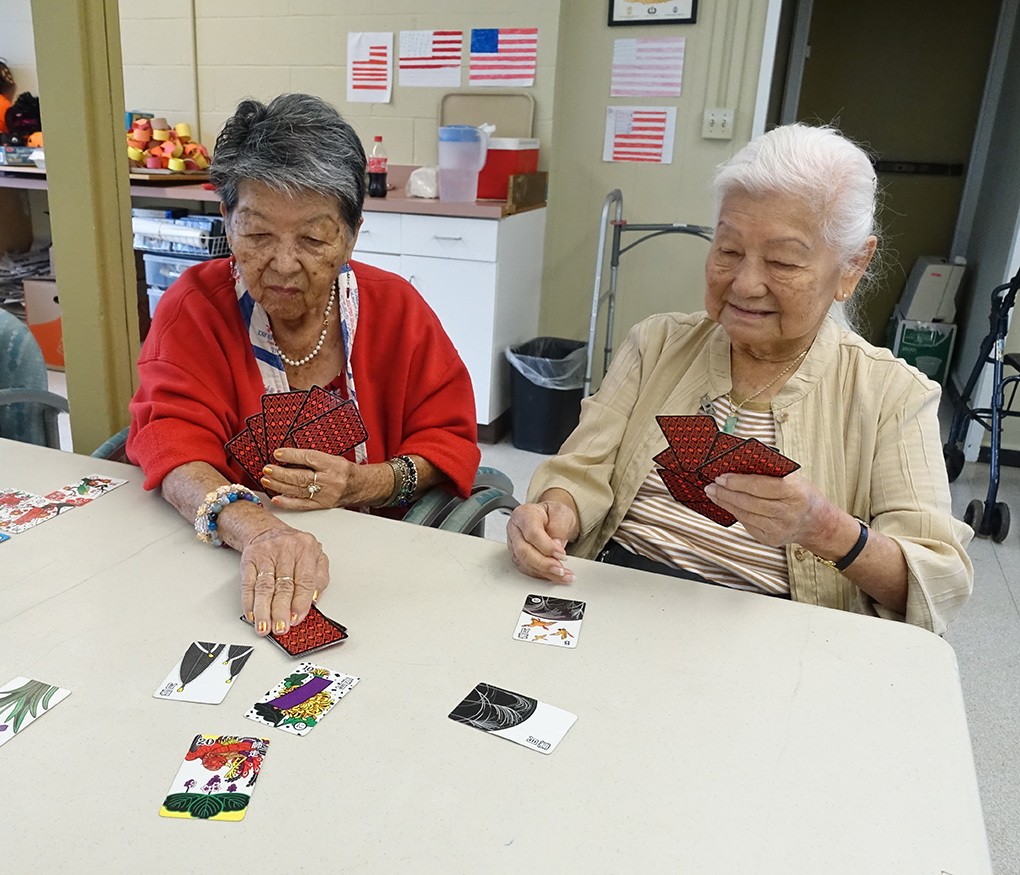 We develop personalized care plans, meals, snacks, activities and excursions to meet each individual's needs. Activities and excursions may include: therapeutic activities, socialization, daily exercise, local entertainment, arts and crafts, monthly outings, pet therapy, and/or kanikapila (music playing). (sample calendar)
Day care services are offered Monday through Friday from 6:30 a.m. to 5:30 p.m. and Saturdays from 8:00 a.m. to 4:30 p.m. except on observed holidays.

How to Apply
We welcome new applicants for our Adult Day Care program year-round.
How Do I Apply?
1. Call and request an application from the Director of Adult Day Care.
All admission paperwork will be discussed prior to a scheduled appointment.
2. An appointment will be scheduled for an interview and further evaluation with the prospective client and his/her family members/caregivers.
All prospective clients are assessed prior to admission.
After admission, if subsequent determination is made by the Home's staff that a client is no longer deemed appropriate for the program, the client will be dis-enrolled.
Enhanced Services
We also offer enhanced services for seniors with greater care needs, including: extra supervision, transfer assistance, incontinence care, a third meal of the day, showering, and dispensing of prescribed medication.
Contact our Adult Day Care Director for more information.
Call (808) 395-4065 or email us at adc@lunalilo.org
Lunalilo Home's Adult Day Care Center is a program licensed through the Hawaiʻi State Department of Human Services, and participates as a QUEST Integrated provider for certain health plans.
More Information
If you have any questions, we may already have answers on our Frequently Asked Questions page.
Our Adult Day Care Director is also here to guide applicants through the admissions process and can be reached at:
Phone: (808) 395-4065
Fax: (808) 395-8487
Email: Director of Adult Day Care

Stay connected and subscribe

to receive notifications for news and updates