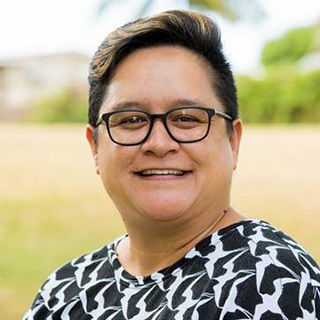 Iwalani Kanoelehua Ah Quin
Director of Adult Day Care & Senior Activities
Position and Role: Ms. Ah Quin is the Director of Adult Day Care and Activities. and Residential Kūpuna Activities. Her role is to develop, coordinate, and implement a variety of senior program services that support the mission of the organization. She also coordinates all volunteers and on and off-site cultural programs and special events.
Background Experience and Education: Ms. Ah Quin is a graduate of University Laboratory School in Mānoa and has worked at Lunalilo Home since 1993 in increasingly responsible roles from data entry, office clerk, program coordinator when the Adult Day Care Center was first opened, to Interim Director in 2017 and then Director soon after.
Fun Facts, Awards, and Other Unique Qualities: Ms. Ah Quin is Lunalilo Home's longest standing employee with 25+ years caring for kupuna. She enjoys working with the kūpuna and says she learns new things from them every day.
Personal : Ms. Ah Quin's mother grew up on Maunalua Bay before Hawaiʻi Kai was developed and she grew up in Kamilo Iki Valley. She believes in Lunalilo's mission and values and entrusted her father's care to the Home for several years before his passing. She currently lives in Kailua and considers Lunalilo her second home.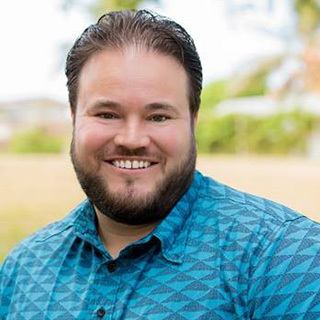 Ian L. Heilbron, B.S.B.A.
Director of Finance
Position and Role: Mr. Heilbron is the Director of Finance. His main responsibilities are to maintain the daily operating functions of accounting and provide directors, the CEO, and board of trustees' financial guidance on the organization's operations. He is also tasked with maintaining the legal and regulatory compliance for all financial and reporting functions including audits as well as establishing department budgets, monitoring and analysis of those budgets and strategies to improve revenue and profitability. Mr. Heilbron also tracks, manages and administers the King William Charles Lunalilo Trust, including trustees' monthly commissions, resident subsidies, yearly tax forms and grant reports.
Background Experience and Education: Mr. Heilbron has been in non-profit accounting since 2009. He started his career in Seattle and was part of the rapid expansion of a corneal procurement organization, SightLife. After five years he moved back to Hawaiʻi and worked at Hale Kipa, Inc. for a year before landing at Lunalilo Home. Mr. Heilbron also works as an independent financial advisor to kūpuna and their families. He graduated from Saint Louis High School, and received his BS in Business Administration emphasizing Accounting from Seattle University.
Fun Facts, Awards, and Other Unique Qualities: Mr. Heilbron is versatile in many trades. He learned his handyman mentality growing up with his family who built or renovated homes while living in them. He recollects coming home from school and always having to wipe drywall dust off his desk. Attaining his real-estate license (inactive) at the age of 18, he appreciates architecture and hands-on projects. He is also Lunalilo Home's resident problem-solver and IT technician.
Personal: Mr. Heilbron is a widower currently residing in Kailua where he grew up and loves visiting his grandmother on a weekly basis. He is a supporter of the Seattle Sounders and Manchester United football club.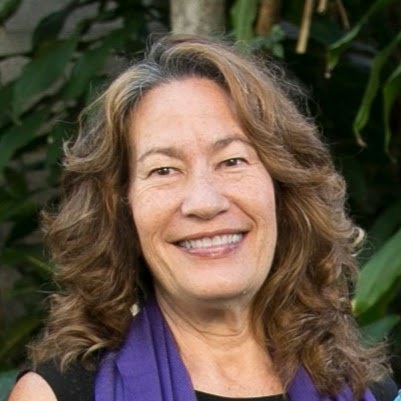 Jeannine Johnson, Notary Public for the State of Hawai'i
Trust Services Manager
Position and Role: Ms. Johnson is the Trust Services Manager for The King Lunalilo Trust and Home. Her role is to oversee matters concerning the operations of the Trust (board meetings, governance, Probate Court, etc.), provide administrative and business operational support for the CEO as well as research and project coordination for future projects and development opportunities.
Background Experience and Education: Ms. Johnson has over 40 years of administrative work experience in the healthcare, judicial, legal, real estate and insurance fields. She is the former Program Specialist at Queen's Native Hawaiian Health Program, paralegal at Pitluck, Kido, Stone & Aipa, Judicial Assistant to the Honorable Thomas K. Kaulukukui, Jr., Assistant to the Broker in Charge at Mary Worrall Associates and Admin. Assistant with Group Alternatives.

Fun Facts, Awards, and Other Unique Qualities: Born and raised in Niu, Jeannine's ʻohana is from Miloliʻi and have been lawaiʻa (fishermen and women) for generations in Kona Hema. A 1976 graduate of Kamehameha Schools, Jeannine is passionate about the preservation of Hawaiian culture, its traditions, and resources. She volunteers her time on several non-profit boards in the East Honolulu community, is on her Neighborhood Board and a haumana with Hālau Hula Kalehuapuakea.
Personal: Ms. Johnson is married with three boys, two moʻopuna and weekly volunteer at Aloha ʻĀina ʻO Kamilo Nui Valley nursery.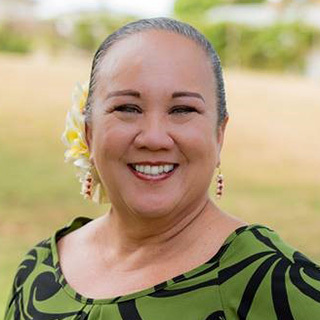 Daryl-Jean Hau'oli Keawe-Aiko
Office and Development Manager
Position and Role: Ms. Keawe-Aiko is Office, Human Resources & Development Manager for The King Lunalilo Trust and Home, an Aliʻi organization founded by King William Charles Lunalilo. Her role is to provide administrative and human resources support as well as manages the cultivation, growth and stewardship of our constituent base. In addition to continuing Lunalilo Home's traditional annual benefit lū'au, golf tournament, and Thanksgiving Imu events/fundraisers, she is tasked with creating new development strategies for impactful donor financial support.
Background, Experience and Education: Ms. Keawe-Aiko has always been in an administrative role and enjoys challenging herself, self-learning and excelling in various ways using her problem-solving skills and project management ability to improve efficiency. She found her calling in human resources a decade ago and most recently in health care in caring for kūpuna.
Fun Facts, Awards, and Unique Qualities: Ms. Keawe-Aiko's first love is hula and she has been dancing since the age of six years old...from her Aunty Bunny's garage, to Genoa Keawe's Hula Studio under Kumu Hula Huʻi Park, and punahele (favorite) of Kumu Hula Leimomi Ho. In 1976, she studied under Kumu Hula Ed Collier and, in 1979, she was asked to join the competition line of Kumu Hula Leilani Sharpe Mendez at the Merrie Monarch Festivals in Hilo. In 2000, she joined Hālau I Ka Wekiu under nā Kumu Hula Karl Veto Baker & Lanakila Casupang. Although she retired from competition in 2009, Ms. Keawe-Aiko continues to breathe, "Hula is the art of Hawaiian dance, expressing everything we hear, see, smell, taste, touch and feel." In 2012, she served as Executive Director and, in 2018, as Vice President for her grandmother's organization, The Genoa Keawe Foundation. She is a haumana (student) of Feather Master Paulette "Aunty Puʻu" Kahalepuna and continues to share this beautiful Hawaiian cultural art.
Personal: Ms. Keawe-Aiko's heart and soul is her two children, with her first moʻopuna (grandchild) on the way.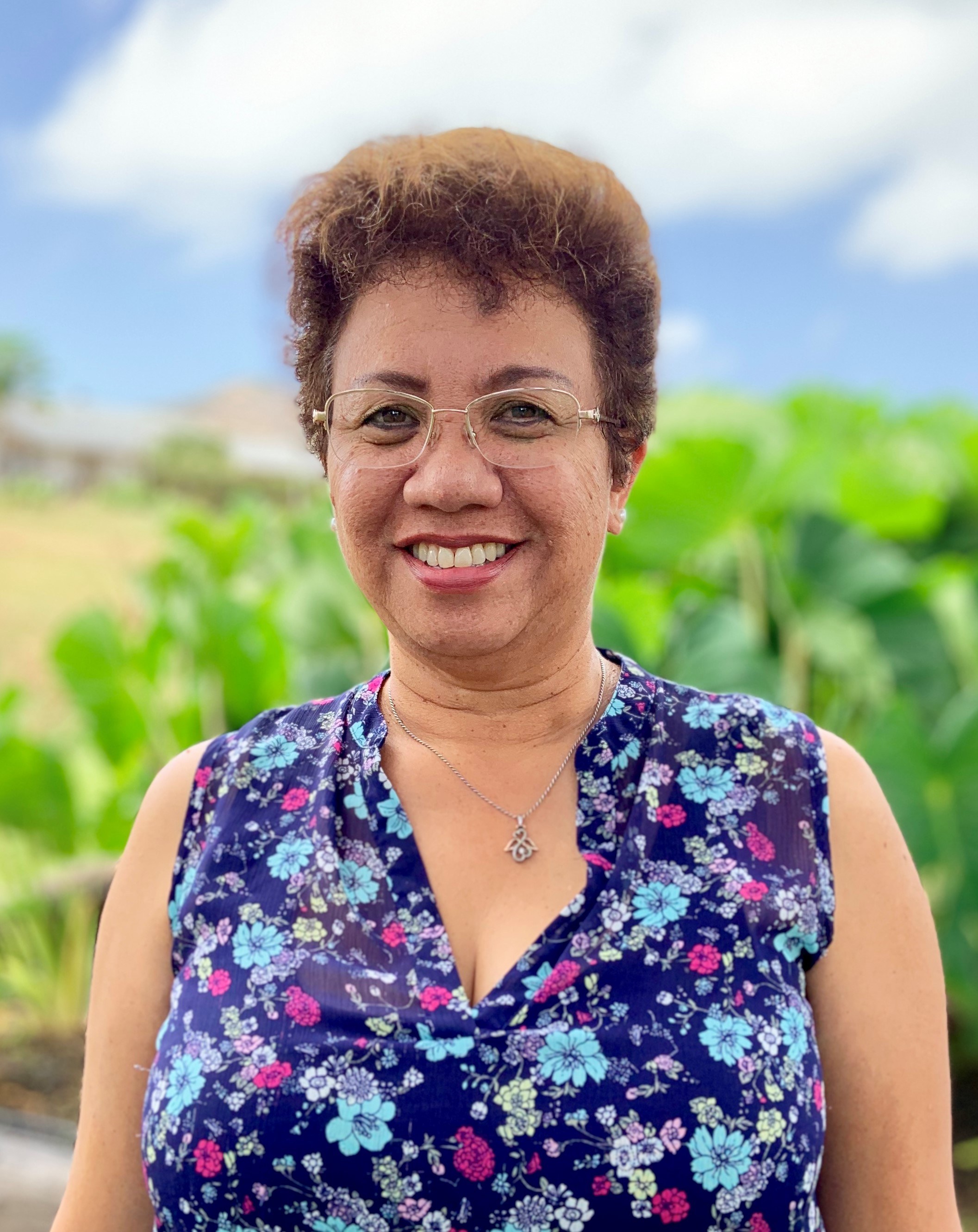 Abraleen Keliinui, M.S.W.
Director of Community Relations and Admissions
Position and Role: Ms. Keliinui is the new Director of Community Relations and Admissions for The King Lunalilo Trust and Home. Her role is recruitment and retention for residence at Lunalilo Home plus community relations liaison with resident families, referral and other organizations. In addition to overseeing the admissions process to assure smooth transitions from the community into program services at Lunalilo Home, Ms. Keliinui maintains day-to-day contact with residents and their family members, physicians, and staff as well as facilitates the dissemination of educational and promotional materials to the community.
Background Experience and Education: Ms. Keliinui is a 1981 Kaiser High School graduate, she received her BSW in 2014 and her MSW in 2015 from the University of Hawaiʻi Myron B. Thompson School of Social Work. As a BSW student, Ms. Keliinui interned at Lunalilo Home and had an internship with Alu Like's Kūpuna Program at Kulanakauhale Maluhia O Na Kūpuna in Waimānalo when she was a MSW student. Ms. Keliinui also has personal experience being the caregiver for her mother who had undergone a mastectomy in 2012 and her ailing father who passed away in 2014. In addition, she has experience working with adults with cognitive, developmental and learning disabilities.
Fun Facts, Awards, and Unique Qualities: Ms. Keliinui is an active member of the Hawaiian Civic Club of Waimānalo and the Waimānalo Hawaiian Homestead Association. She supports Hawaiʻi Special Olympics through the Windward Kamaliʻi Koa Delegation and Kāneʻohe's 24/7 Dance Force Studio.
Personal: Ms. Keliinui is the proud parent of two adult daughters.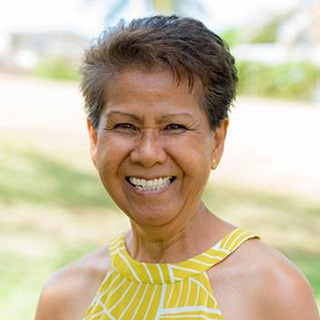 Leticia Y. Manning, C.D.M, C.F.P.P., B.S.F.N.
Director of Dietary & Support Services
Position and Role: Ms. Manning is the Director of Dietary and Support Services. She has a wide variety of responsibilities overseeing all aspects of the Dietary and Support Services Departments and serves as Chairman of the Hazard Communication Program required by OSHA. She supervises and trains all her Departments' employees, evaluates their job performance and manages their compliance with Department of Health regulations and Lunalilo Home's policies and procedures. Ms. Manning procures all foodstuffs, equipment and supplies to maintain quality service and has been instrumental in implementing residents' therapeutic diets working closely with registered dietitians and physicians' orders. Elevating the daily dining experience for each of our kūpuna is one of her many challenges due to their different ethnic backgrounds, preferences and diet restrictions.
Background Experience and Education: Ms. Manning was educated and obtained her degree in Foods and Nutrition in the Philippines. After immigrating to the USA, she has worked in the healthcare industry. After working at the Loyola Medical Center in Maywood, Illinois, she moved to Oʻahu and continued her passion in Dietetics in an acute hospital setting at Saint Francis Medical Center. Ms. Manning became an advocate for the elderly after working in a long term care setting at Hale Nani Nursing and Rehabilitation Center, as well as Pālolo Chinese Home and here at Lunalilo Home.
Fun Facts, Awards, and Unique Qualities: A member of the Association of Nutrition & Foodservice Professionals, Ms. Manning has served as President twice and supports the local chapter. She is committed to health, wellness and understanding the relationship between what we eat and how we feel. Her motto is the ancient quote from Hippocrates, "let food be thy medicine and medicine be thy food."
Personal: Ms. Manning spends as much of her free time as possible with her three granddaughters and two grandsons and stays active whether that's going for a long walk or to the studio to practice yoga.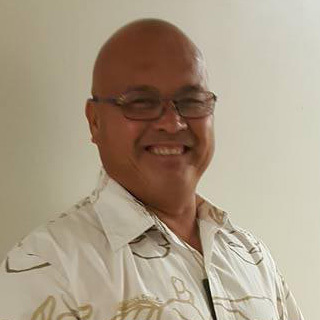 Daniel "Danny" Kalaunuiohua Smith
Facility Manager
Position and Role: Mr. Smith is the Facilities Manager for The King Lunalilo Trust and Home, overseeing the Maintenance and Housekeeping Departments. His role is to maintain and upkeep Lunalilo Home, its properties, vehicles, appliances and equipment to ensure they meet health and safety standards. Mr. Smith is also the Project Manager for Lunalilo's Kipuka o nā Kūpuna Farm to Table Project to increase the amount of kalo, a Native Hawaiian staple food, into the kūpuna's daily meal plan for increased health outcomes and well-being.
Background Experience and Education: After 35 years of service, Mr. Smith recently retired from the City and County of Honolulu Refuse Department. He also helps operate the family business, Hale Kealoha – ʻAi Pono. He spent many years as a volunteer coaching Pop Warner Football, Little League Baseball and PAL Basketball Youth Teams in his community of Ko'olaupoko.
Personal: Together with his wife of 37 years, Mr. Smith raised 8 sons and 3 daughters and continues to see their ʻohana grow with 14 grandchildren and expect many more to come! They spend most of their time working and giving back to their community so having quality family time in between their busy schedules is something they always work hard at.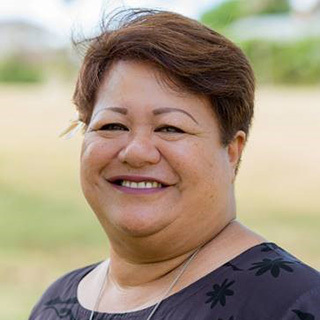 Tammy Mahealani Smith
Dietary Manager
Position and Role: Mrs. Smith is the Dietary Manager for The King Lunalilo Trust and Home and also oversees our expanding Meal Delivery Program. With our unique legacy in delivering culturally competent care to Hawaiian kūpuna and the broader Hawaiʻi senior community, Mrs. Smith's role is to provide kūpuna with ʻāina based "Mea ʻAi Hawaiʻi," on a daily basis, not only here at Lunalilo Home but also to kūpuna within the community.
Background Experience and Education: Mrs. Smith graduated from Kapiʻolani Community College's famed Culinary Arts Program with a degree in Food Service. She is the second-generation owner of Hale Kealoha – ʻAi Pono which she has owned and operated since 1989. Currently her business is operated by her son who is the third generation owner/operator. Mrs. Smith also runs 'Ai Pono School Lunches, currently serving 300 meals to Charter Schools. Her business experience has provided mea 'ai for our Lāhui for the past 30 years.
Fun Facts, Awards, and Unique Qualities: Mrs. Smith is very active in her community of Koʻolaupoko. She is the President of Mailikukahi Aina Momona Academy, a traditional Hawaiian ʻāina based enrichment summer program serving keiki of Koʻolaupoko. She also volunteers in her community teaching 'Ai Pono cooking classes.
Personal: Mrs. Smith is married to Mr. Danny Smith, our Facilities Manager. Together they have 11 keiki and 14 moʻopuna. Her goal is to make sure that Hale Kealoha – ʻAi Pono will always be a kuleana that her family will carry on for generations to come.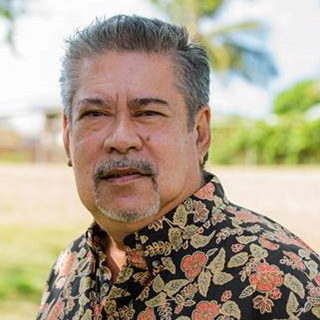 Michael Alexander Warren, R.N., B.S.N., M.A.
Director of Nursing Services
Position and Role: Mr. Warren is the Director of Nursing (DON) and Primary Care Giver (PGC) for Lunalilo Home with direct training, management and oversight of its residents and nursing staff. His role is to ensure the safety and well-being of all residents pursuant to the Department of Health's rules and regulations. As the PCG for the Home, Mr. Warren maintains his Registered Nurse License Status, and successfully completed and implemented the ARCH teaching modules as required by the DOH.
Background Experience and Education: Mr. Warren has been in healthcare for almost 50 years and, as a result, possesses keen observation skills with an extensive breadth of knowledge in the problems and needs of kūpuna. When he graduated Cum Laude from Los Angeles City College, he was selected by the college faculty as the #1 student graduate and received the Student Registered Nurse Award. Mr. Warren began his nursing career at Hollywood Presbyterian Hospital where he worked as a Charge Nurse, Head Nurse, Orientation Instructor and, in 1980, was promoted to Medical/Surgical Clinical Instructor. In 1982, he returned home to Hawaiʻi and was immediately hired by St. Francis Hospital in their Oncology Unit. As St. Francis Hospital evolved to become the St. Francis Healthcare System of Hawaiʻi, Mr. Warren not only managed the tremendous amount of work at the Hospital during those transformative years, he went on to earn his Bachelors and Masters Degrees with honors. He followed his mentor, Sister Francine Gries, as the Executive Director of St. Francis Hospice and, in 2007, retired as the Chief Community Officer from the System which by then included St. Francis Home Care, St. Francis Hospice, St. Francis Health Services-Senior Citizens, St. Francis Life-Line, Big Island Dental Clinic and Parish Nurse Program.
Fun Facts, Awards, and Unique Qualities: Mr. Warren was a long standing member of Sigma Theta Tau, a national nursing honor society. In 1989, he was awarded St. Francis Medical Center's Achievement Award and, in 1999, received the Mother Marianne Award from St. Francis Healthcare System of Hawaiʻi. Mr. Warren is an also an avid horseman who has competed at the Hawaii State Futurity in the cutting and reigning events where he placed either first or second.
Personal: Mr. Warren grew up in Koko Head and feels very privileged and honored to serve Lunalilo Home and its residents as the DON. He was a member of Honolulu Orchid Society where many of his orchids from his private collection were shown and awarded by the American Orchid Society.
Stay connected and subscribe

to receive notifications for news and updates