Executive Team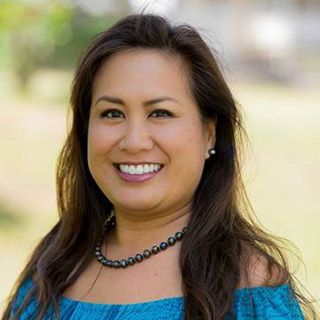 Diane S.L. Paloma, M.B.A., Ph.D.
Chief Executive Officer
Dr. Paloma is the Chief Executive Officer for The King Lunalilo Trust and Home. An Aliʻi organization founded by King William Charles Lunalilo, its mission is to perpetuate the legacy of King William Charles Lunalilo to honor, tend to, and protect the well-being of kūpuna (elders). Her role is to oversee the Adult Residential Care Home, Adult Day Care, Meal Delivery and Investments.
Dr. Paloma has been in health and healthcare since 1995 and was able to combine her passion for Native Hawaiian culture with the health and medical fields. She has spent time working for a private physician, Hawaii Medical Services Association (the Hawaii Blue Cross/Blue Shield Association), the John A. Burns School of Medicine and is the former Director of Native Hawaiian Health at The Queen's Health Systems. She is a graduate of The Kamehameha Schools, received her BS in Physiological Science from UCLA, MBA from the University of Hawai'i at Mānoa, and completed her PhD in Healthcare Administration from Capella University.

Dr. Paloma has also achieved the rank of ʻōlapa in her hālau going through a formal ʻūniki process. She volunteers her time and expertise to local boards of the Partners in Development Foundation, Friends of ʻIolani Palace, Bishop Museum Association Council, Hui Mauli Ola; and the national board of the Asian Pacific Islander American Health Forum. In 2019, she was awarded the "20 for the next 20" designation by Hawaiʻi Business Magazine as someone who will provide community change for Hawaiʻi.
Dr. Paloma is married to Jason Paloma and is devoted to her three daughters. She grew up and continues to live in Wailupe Valley (ʻAina Haina).
Strategic Plan
Please click here for 2017 - 2027 Strategic Plan.
The will and codicil of King Lunalilo charges the justices of the Supreme Court of Hawaiʻi to nominate and appoint three trustees to serve the William Charles Lunalilo Trust Estate.
The first trustees were appointed on March 16, 1877 and were Sanford B. Dole, E. O. Hall, and John Mott-Smith. Twenty-three persons have subsequently served as trustees.
Current Trustees

Presently, King Lunalilo Trust & Home is led by Kamani B. Kualā'au, Harvey H. McInerny, Jr., and Sunshine P. Topping. Our current regular Trustees are joined by three voluntary Advisory Trustees: Naleen N. Andrade, MD, Michael J. Chun, PhD, and Laura Smith. The Advisory Trustees have been instrumental in the development of our Kauhale Kūpuna Strategic Plan and its successful implementation. They provide the diversity, depth and breadth of community-based leadership as well as expertise, experiences, knowledge and compassion for elders in the Hawaiian community. Our Trustees are joined by an executive and administrative team and a dedicated staff in serving kūpuna.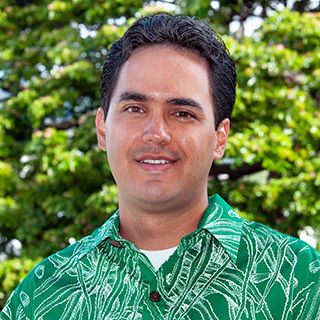 Kamani B. Kualā'au
Chairman
Kamani B. Kualāʻau is a senior vice president at Atalanta Sosnoff Capital, LLC, a New York asset management firm. His career includes serving as a vice president at Bank of Hawaii overseeing the bond department and managing institutional client relationships for investment, trust and custody services. He also previously worked at Public Financial Management, a financial advisory and investment management firm for state and local governments across the country.
Mr. Kualāʻau was raised in Lahaina, Maui, and his appreciation for kūpuna stems heavily from the love and care shown to him by his Nana, Clara G. Babyack. He first enrolled at Kamehameha Schools as a seventh grade boarding student. He remembers learning about Lunalilo Home when invited with fellow boarders to sing Christmas carols to kūpuna at the Home. As a high school student, Mr. Kualāʻau was appointed by Sen. Daniel K. Akaka as a U.S. Senate Page in Washington, D.C. After his service in Washington, Mr. Kualāʻau returned to Kamehameha Schools, was elected student body president, and graduated with honors in 1997. He graduated with a degree in sociology from Princeton University in 2001.
Mr. Kualāʻau was appointed as a trustee of the King William Charles Lunalilo Trust Estate in 2008. Beyond his service to Lunalilo Home, he volunteers with Aloha United Way and Nā Pua Noʻeau.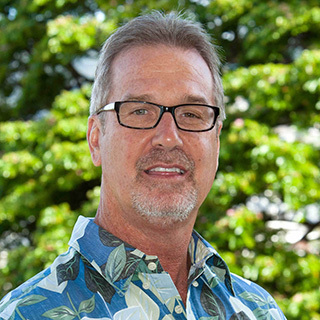 Harvey H. McInerny, Jr.
Trustee
Harvey H. McInerny Jr. is president and CEO of McInerny Financial Group, a Native Hawaiian-owned investment brokerage offering a full spectrum of services including portfolio management, retirement and estate planning and tax strategies to businesses, foundations and individuals. A registered securities broker since 1987, Mr. McInerny previously served as First Vice President at Prudential Securities, where he helped oversee $500 million in Taft-Hartley funds and worked closely with various labor union funds on crafting investment policy statements, guidelines and objectives. Additionally, he helped their officers determine asset allocation models, conducted manager searches, and reported results to employers and funds trustees.

Mr. McInerny was appointed as a trustee of the King William Charles Lunalilo Trust Estate in 2008. He is active in the community and is a former board member of Big Brothers Big Sisters Hawaiʻi and was previously the chairman of the Office of Hawaiian Affairs Native Hawaiian Revolving Loan Fund.
Mr. McInerny attended the University of Hawaiʻi at Mānoa and is currently the head coach for the boys track and field program at Kamehameha Schools — Kapālama, his alma mater. Mr. McInerny and his wife, Deborah, reside in Kahaluʻu on Oʻahu and are the proud parents of two daughters.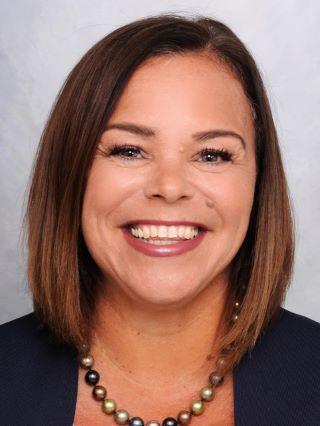 Sunshine P. Topping
Trustee
Sunshine Pualani Topping is the Senior Vice President, Human Resources and Organizational Effectiveness at Hawaiʻi Pacific Health, one of Hawaiʻi's largest healthcare systems and brings more than 15 years of progressive leadership experience working for some of Hawaiʻi's leading organizations, guiding them through significant change periods. With vast experience managing through highly sensitive, technical, fraught and controversial issues, she leads with integrity and stands by her guiding principles even in times of immense pressure.
Named one of Hawaiʻi's "20 for the Next 20" in 2017, Ms. Topping was recognized for her passion, grit and unique approach to growing the next generation of leaders. Native Hawaiian and originally from Keaukaha on Hawaiʻi Island, Ms. Topping deeply understands the complex issues facing Hawaiʻi's community. She holds the innate ability to connect and foster relationships with people, and she is passionate about workforce issues in Hawaiʻi and creating opportunities for Native Hawaiians. Ms. Topping is affiliated with numerous boards, organizations and community positions, including the Hawaiʻi Workforce Development council, Hālau Kupukupu Kealoha, Hoʻokuaʻāina, Sector Strategies & Career Pathways Committee and the Native Hawaiian Legal Corporation. She graduated with her undergraduate degree from the University of Colorado, Boulder and holds a master's degree in public health from Hawaiʻi Pacific University.
Ms.Topping was appointed as trustee of the King William Charles Lunalilo Trust Estate in 2021. She is committed to King Lunalilo's firm belief that respecting and perpetuating grace for our kūpuna thereby perpetuates our culture.
Past Trustees
| | | |
| --- | --- | --- |
| TRUSTEE | APPOINTED | DIED OR RESIGNED |
| Sanford B. Dole | Mar. 16, 1877 | R Aug. 1, 1887 |
| E. O. Hall | Mar. 16, 1877 | D Sept. 19, 1883 |
| John Mott-Smith | Mar. 16, 1877 | R Apr. 27, 1883 |
| William O. Smith | May 21, 1883 | R Mar. 31, 1886 |
| William O. Smith | Aug. 1, 1887 | R Jan. 30, 1926 |
| Mary S. Parker | Dec. 5, 1883 | D Mar. 24, 1925 |
| W. C. Parke | Mar. 31, 1886 | D 1889 |
| Henry Waterhouse | Sept. 7, 1890 | D 1904 |
| Ernest A. Mott-Smith | Apr. 30, 1904 | R Sept. 29, 1905 |
| Lorrin A. Thurston | Sept. 29, 1905 | R Jan. 1906 |
| Ernest A. Mott-Smith | Jan. 1906 | D July 28, 1935 |
| Clio N. Chamberlain | Apr. 15, 1925 | R Jan. 7, 1929 |
| Albert Waterhouse | Feb. 1, 1926 | R May 31, 1945 |
| George Li Brown | Jan. 21, 1929 | R Dec. 14, 1945 |
| Henry A. Nye | Sept. 3, 1935 | D Nov. 25, 1953 |
| William E. Bishop Taylor | June 9, 1945 | D May 20, 1956 |
| Muriel K. Amalu | Jan. 15, 1946 | D Mar. 19, 1951 |
| Napua Stevens Poire | May 16, 1951 | D Jan. 7, 1990 |
| Lawrence M. Judd | Mar. 9, 1954 | D Oct. 4, 1968 |
| George Ii Brown, Jr. | Aug. 7, 1956 | R 1987 |
| John Cline Mann | Mar. 11, 1969 | R Mar. 31, 1993 |
| James K. Ahloy | May 1, 1987 | R Aug. 2, 1999 |
| R-M. Keahi Allen | June 27, 1990 | D Apr. 8, 2008 |
| Eugene N. Tiwanak | Apr. 1, 1993 | R Dec. 31, 2005 |
| Stanley W. Hong | June 8, 2001 | D Feb. 13, 2015 |
| Harvey H. McInerny, Jr. | May 13, 2008 | – |
| Kamani B. Kualaʻau | Sept. 26, 2008 | – |
| Sunshine P. Topping | March 16, 2021 | – |
Stay connected and subscribe

to receive notifications for news and updates